Understanding your audience, is extremely important before creating a Facebook ad campaign. For this reason, you should develop customer avatars and have them on hand when you are ready to start creating your ads. If you are not familiar with customer avatars, AdEspresso defined it as fictional identities created off your target audience that help you to understand those customers and everything about them including what they need in order to convert and purchase from you. Understanding who this audience is will also help you in other aspects of the sales process, as well including crafting content for blog posts, videos, podcasts, etc., product creation, paid traffic, copywriting and email marketing.
When trying to build out your customer avatar profiles you should include the following components:
Demographics - gender, age, geographic location, age, relationship status, income, occupation, etc.

Goals & Values - what does this customer what to achieve or what are they looking to do

Challenges & Pain Points - obstacles that your customer is dealing with and trying to solve

Interests & Content Channels - what does this customer like to do, what are their favorite books, shows, where do they consume content

Objections - opposition that your customer may have for using your products and how you plan to provide value in your marketing efforts
Here is an example of a customer avatar that could be used for a Facebook ads business targeting a professional blogger:
Demographics: Age: 28 // Gender: Female Marital Status: Married // Location: Chicago, Illinois Occupation: Content Marketing // Job Title: Lifestyle Blogger // Annual Income: $50,000 // Level of Education: College Graduate // Quote: "Dreams and dedication are a powerful combination."
Goals & Values: Scale her blogging business and sell digital/physical products // Increase her email subscriber list // Grow her social media following // Increase traffic to her website
Challenges & Pain Points: Does not understand how to grow her audience beyond posting organic content // Finding training and tips on digital marketing // Scaling her blogging business
Interests & Content Channels: Books: You Are A Badass, Girl Boss // Magazines: InStyle, Fast Company // Blogs/Websites: Refinery 29, Inc., theSKIMM // Mentors: Sophia Amoruso, Claire Sulmers // Hobbies: Yoga, Wine Tastings, Traveling
Objections: Do Facebook ads makes sense for my business? // Can I afford paid marketing efforts for my blogging business?
I know you are probably wondering, how do I collect all of this information about my ideal customer avatar? There are a few ways you can go about doing this and they can be found below:
Utilize demographic information by selecting the acquisition tab on Google Analytics and analyzing current web traffic visitors.

Conduct interviews with customers and ask them about their specific needs, challenges and interests.

Send out a survey to customers and offer them an incentive to complete it.

Utilize the Buzzsumo tool to research and find the most shared content that would be relevant for your audience.

Utilize Facebook Audience insights data to do additional research when building audiences by using competitor audience traits or traits from your custom audiences.
Here is an example of how Facebook Audience Insights works:
Using Taylor Michelle as our customer avatar example, I adjusted the age to 28 and used Girl Boss creator, Sophia Amoruso as an interest within Facebook Insights. By doing this we are able to see various data points associated with that audience. In this case, we see that for the particular audience interests we selected, 95% are women and 25% are interested in career building.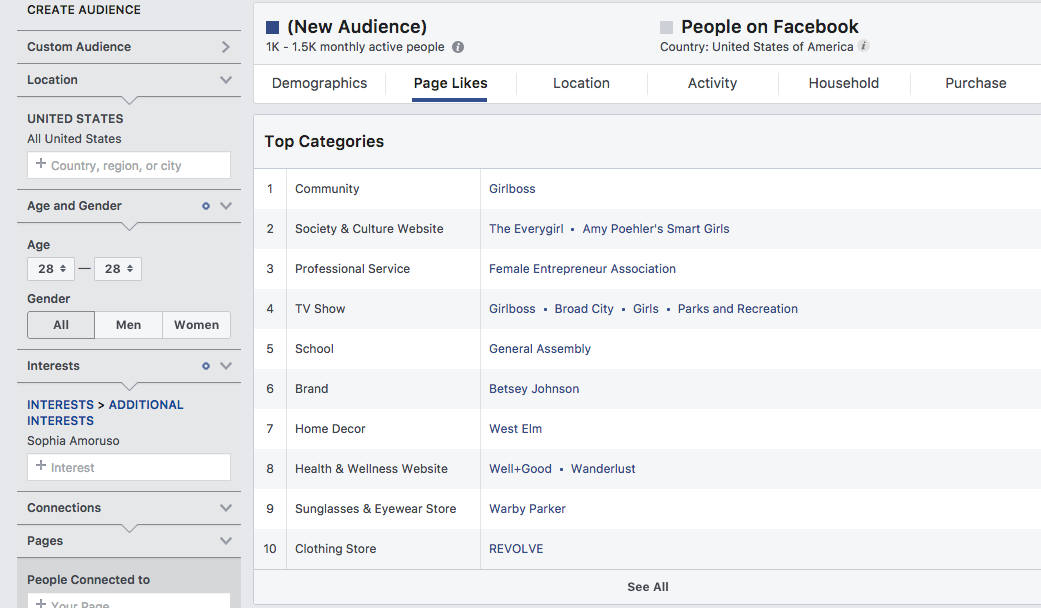 In addition to demographic data, Facebook Insights also provide top categories that include relevant tv shows, brands, stores and more based on page like activity. You will see here that this audience, has a high affinity towards Betsey Johnson, Warby Parker and Girl Boss. You can take these findings and use them in your ad targeting strategy.
By now, you should have a better understanding of the importance of creating customer avatars for your business. Customer avatars help tell the story of your target audience and if used effectively can improve marketing content - especially for Facebook ads. Customer avatars allow you to segment your audiences and create key messages for specific groups of people, which can ultimately lead to increased engagement, conversions and paid ad campaigns where money is not being wasted. This is a win for your business, so be sure to not skip out on this important aspect for your business. I have created a customer avatar worksheet for you to complete. It's time to take control of your marketing content.